http://edition.cnn.com/2014/02/28/opinion/ecuador-rainforest-oil-exploration/
CNN.com
Opinion: Why oil drilling in Ecuador is 'ticking time bomb' for planet
February 28, 2014 -- Updated 1421 GMT (2221 HKT)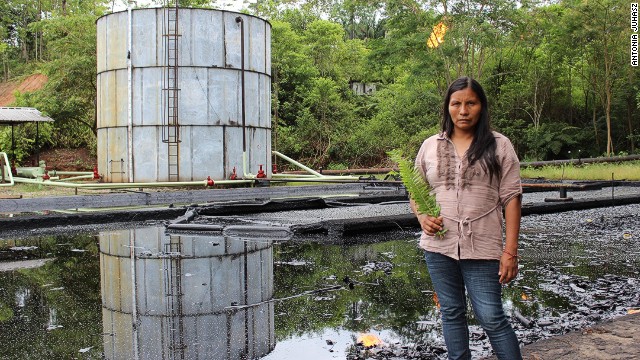 Editor's note: Antonia Juhasz, an oil industry analyst, is author of several books, including "The Bush Agenda" and "The Tyranny of Oil." Juhasz's investigation is supported by a grant from the Max and Anna Levinson Foundation, which makes grants to nonprofits committed to "developing a more just, caring, ecological and resilient world." Her work has also appeared in Rolling Stone, Harper's Magazine, and The Atlantic's website.The opinions expressed in this article are solely those of the author.
(CNN) -- Alicia Cahuilla doesn't try to hide her anger. The native Waorani tribal leader stands in front of an exposed, thickly black crude oil pit, as two gas flares burn violently overhead, the stinging stench of crude heavy in the air. Until about 50 years ago, this area, like most of the central Ecuadorian Amazon rainforest in which it sits, was Waorani land, a pristine expanse filled with nothing but trees and streams.
The Waorani have lived here, on the northwestern edge of one of the most biologically rich places on Earth, for thousands of years. But today their land is also home to hundreds of operations seeking to extract the vast oil reserves buried deep below the forest floor.
Experts believe that in order to avoid the worst of a future climate change catastrophe, most of the planet's fossil fuels must be left in the ground. Ecuador's ambitious Yasuni-ITT Initiative, launched in 2007, was hailed as a landmark plan to keep oil exploration out of the country's most pristine forest and to preserve the homes of indigenous tribes living there. But Ecuador abandoned the plan last year, and drilling could now begin any time.
Leila Salazar of the U.S.-based NGO Amazon Watch equates oil exploration in Ecuador's rainforests with "ignoring a ticking time bomb for the entire planet." But the once global struggle to secure the Yasuni-ITT Initiative has now largely fallen on the shoulders of a few indigenous tribal communities who have pledged to fight, some to the death, to keep oil companies out of their communities and their oil in the ground.
Will the world back them up? It is a question with significance far beyond Yasuni National Park. The age of "easy oil," if it ever existed, is over. What is left is in places like the Yasuni, previously deemed too sensitive, valuable, or risky to drill. The cost to both the planet and local people of pursuing such oil grows in tandem with the difficulty of extracting it. The Yasuni presents a critical opportunity to demonstrate that a different path is possible, though fortunately it is not the only place where the effort to leave our "oil in the soil" has taken root.
READ THE FULL ARTICLE AT CNN.COM